The Shotgun Stalker -- a two-month nightmare

Washington, like any other U.S. city with a large inner-city poverty population, has a high homicide rate (195 homicides in 2005, down substantially from the high of 482 recorded in 1991). But homicides involving strangers are the exception; most of these deaths involve disputes among acquaintances, turned into killings by the ready availability of guns. Most threatening to people whose mates and acquaintances aren't violent is the "robbery gone bad", as happened in Mount Pleasant in September, 2005, when Gregory Shipe was shot dead on Irving Street, probably by a teenager attempting a robbery.
The "shotgun stalker", in early 1993, was a threat of a wholly different order. Here was a man who targeted total innocents, chance encounters with residents minding their own business, walking on the streets of Mount Pleasant and Columbia Heights. This is a nearly insoluble crime, because there is no motive, no connection between the murderer and the victim, no forensic evidence, and this man was careful to shoot with no witnesses about to identify him, or his car. (Shotgun pellets bear no gun-identifying marks.) Because these shootings were utterly random, everyone and anyone was a potential victim, no matter how innocent, no matter how well-behaved, no matter how street-smart and cautious. This quite naturally terrified residents who ordinarily would be little worried by the occasional shooting in Columbia Heights.
The shots begin, in Columbia Heights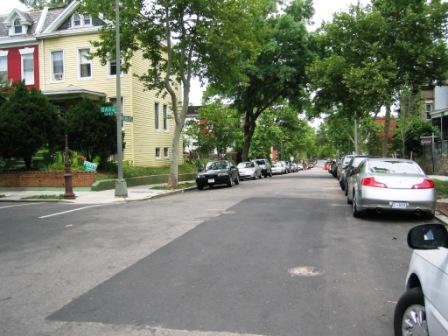 The first target was a woman walking alone on Holmead Place (see photo), at Monroe Street, at 8:45 pm on February 23, 1993. A gun barrel appeared from the window of a slow-moving car, then a shot rang out. The shooter missed. The would-be victim called police, who declined to take the matter very seriously, dismissing the gun as a pellet or BB gun, the perpetrators teenage vandals, the target a window nearby, and the woman as merely happening to be nearby.
Even as these officers interviewed the first intended victim, the stalker fired again, now on Oak Street, a very short distance away. But the officers speaking to the woman had turned their radios down for their interview, and were unaware of this second shooting, 20 minutes after the first. The victim this time, a 22-year-old man, was hit in the head, and very seriously injured, losing one eye and much of the use of one arm. Unfortunately, because this victim was young, male, and black, MPD detectives dismissed this as an ordinary drug turf dispute, despite the victim's denials that he was involved in drug dealing. He had planned to start a job at a nursing home the day after he was shot. Not for another month did the officers learn of the earlier shooting on Holmead Place.
This was perceived, it seems, as merely the "normal" level of violence associated with this part of Columbia Heights. (Today, years later, the 3500 block of 14th Street remains a crime "hot spot", notorious for drugs, robbery, and violence.)
On February 26, a man with a shotgun burst into a barber shop and killed a man in the chair. Again, police wrote this off as just more neighborhood drug-gang warfare. The family's protestations of innocence were disregarded.
On March 4, two weeks after these two shootings, the stalker returned, shooting another pedestrian on Holmead Place. This time the victim was a 43-year-old man, shot in the head. Again, the police attributed this attack to drug warfare.


The stalker comes to Mount Pleasant
The situation changed abruptly on March 17, when a woman was hit by shotgun pellets from a passing car, similar to the February 23 shooting, but now in Mount Pleasant. This changed the calculus: shootings, and drug wars, may be "normal" in Columbia Heights, but that's not the case in rapidly-gentrifying, upscale, low-crime Mount Pleasant. Almost a month after the first shooting, police began to wonder if there was something exceptional taking place. Still, they speculated that the victim perhaps just happened to be standing in the crossfire between warring drug gangs.
On March 23, precisely four weeks after the first shooting, the stalker struck again, this time killing Elizabeth "Bessie" Hutson, 28, as she walked her dogs in an alley paralleling Park Road in Mount Pleasant. This was on the far west end of Mount Pleasant, between 19th Street and Rock Creek Park, far away from any street-gang disputes in Columbia Heights. For the first time, the MPD realized that they had a random shooter in the neighborhood, gunning down perfect innocents, and they connected this series of shootings to the first incident on Holmead Place.
I recall seeing the notice of that shooting in the morning Post, and realizing myself that this was something very much out of the ordinary. (I knew nothing, of course, of any of the previous shootings.) I warned my wife, and our young cousin resident on our top floor, to be extra careful. To this day, Emily is convinced that she saw the blue Toyota associated with this shooter one evening as she parked across the street from our home, and she warily waited in her car for that car to disappear before getting out to walk to our house.
On April 4, the stalker took another shot, once again at a woman walking on Holmead Place. On April 10 he returned to Holmead Place, shooting at three pedestrians in turn, killing one, a 35-year-old man.
On April 19, two months after the first shooting, the stalker returned to Columbia Heights, taking shots at three pedestrians, in broad daylight, even as hordes of MPD officers patrolled the area. On 13th Street, a 61-year-old woman was shot dead, the stalker's fifteenth attack, and fourth homicide.
A lucky break, an alert cop, and the stalker is caught

Finally a lucky break came: the stalker, leaving the scene of this last shooting, ran a red light on Kenyon Street at Sherman Avenue. An alert MPD officer, Kenneth Stewart, though off duty, northbound on Sherman, noted the vehicle and followed it south to Florida Avenue. The driver darted into a parking lot, the Atlantic Plumbing Supply, where he was trapped. A shotgun lying on the back seat of the now-infamous blue Toyota connected the driver, James Swann, to the shootings.
And so ended the two-month nightmare in Columbia Heights and Mount Pleasant, after a total of 14 shootings, including four homicides.
Why? and why here?

Why did he do this? It was utter insanity: Swann heard voices, including the "evil spirit" of Malcolm X, which commanded him to shoot people in Northwest Washington. Why these neighborhoods in DC, where Swann, a resident of New York, New Jersey, and Maryland, had no connection? Somehow, this "evil spirit" believed the people of northwest DC, the "civil rights side of town", to be responsible for his 1965 assassination in New York. Curiously, there was nothing racial about this rampage, and almost all of Swann's victims were black.

Swann drove here from New Jersey to do his violence, and I guess he just came down 16th Street and turned off, choosing our neighborhoods more or less at random. He used a 20-gauge shotgun that he had purchased just under a year earlier, at a K-mart in Oxon Hill.

It all made no sense. Swann was declared "not guilty by reason of insanity" in 1994, and committed to Saint Elizabeth's. (As of 2011, he was still there.) We can only hope that he remains today held safely in confinement, in a mental hospital somewhere.

Two aspects of this miserable incident stand out. First was the level of fear instilled in residents, because no one was safe, everyone was threatened, no matter how innocent, no matter how careful. Most homicide victims are people who are intrinsically at risk, because of their associates, because of their activities, or because of their poor choice of mates. The great majority of homicide victims in the District are young, black, and male, so those of us who are not, and who live "clean" lifestyles, can feel fairly secure. The shotgun stalker changed all that, putting everyone at risk, black or white, young or old, cautious or careless.

Second was the failure of the Metropolitan Police to take the first shooting incidents seriously, because they involved victims who were perceived to be "at risk" due to their locations. Shootings on Holmead Place in Columbia Heights were shrugged off as simply part of life on that street (which remains today, 13 years later, on the rough side, though Columbia Heights is rapidly gentrifying). Shootings in Mount Pleasant, especially far on the west end, are a different matter, because such things are not supposed to happen in this "good" neighborhood.

Perhaps the day will come when shootings, and gunshots, are rare in Columbia Heights, as well as Mount Pleasant, and will command a high level of police attention, instead of a dismissal as no more than the ordinary violence of the neighborhood.

One more note of interest in this wretched episode: the plainly insane Mr Swann had found occasional employment -- as a security guard!



Return to home

Page created in 2006; updated February 16, 2011