Night Life in Mount Pleasant


One might fairly ask, "what night life in Mount Pleasant?" In sharp contrast to the active nighttime-entertainment neighborhoods of Adams Morgan and U Street/Cardozo, quite nearby, Mount Pleasant goes quiet by early evening.

---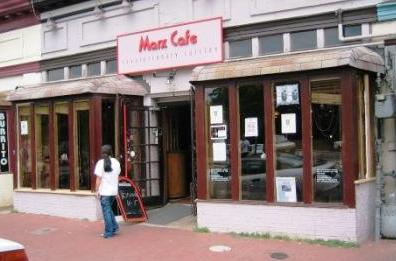 The Marx Cafe is one of the few nightspots in Mount Pleasant, popular among young professionals and college-age youths; or so I'm told, I'm much too old and stodgy for this sort of thing. Marx offers recorded music, and a disk jockey, for evening entertainment.

The name, by the way, stems from the original owner, Mark Peters, who played up the Karl Marx implication ("revolutionary cuisine"). Recently the Cafe has been purchased by Aleks Duni, proprietor of Heller's Bakery, and a Greek immigrant, so some changes may be on the way.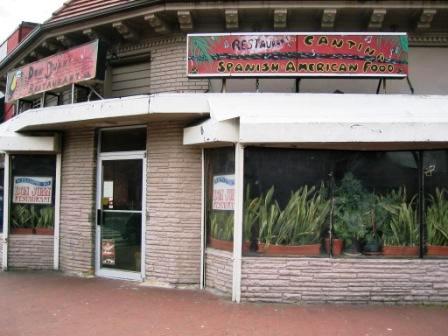 Don Juan's Restaurant is another Mount Pleasant night spot, especially popular among Salvadoreans. Alberto Ferrufino, the proprietor of this restaurant and of Don Juan's Carryout, likes to provide karaoke, which his clientele enjoy. This has proven contentious, because certain nearby neighbors characterize karaoke as "live music", and have objected. The Alcoholic Beverage Control Board decided that karaoke is "live entertainment", but not "live music", a rather subtle distinction.

Currently Alberto is seeking an "entertainment endorsement" so that he can again offer karaoke. He was required to file for this endorsement after the neighbors again complained about his karaoke, because Alberto's brother, visiting from El Salvador, and a professional mariachi singer, sang the karaoke a few nights. That, said the complaining neighbors, made it "live music", and hence a "violation".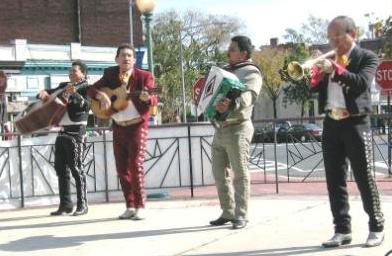 This is the Mount Pleasant Mariachi Band, which is allowed to perform out on Mount Pleasant Street, but Mount Pleasant restaurant owners cannot engage them to perform inside their restaurants. To my knowledge, only in Mount Pleasant is live music banned.


---

Why all this contentiousness over live music? It's not about loud music disturbing the neighbors, because recorded music can be just as loud, and because there are legal limits to how much sound can emanate from any establishment (not much, certainly not enough to be troublesome, even to the nearest neighbors).

In truth, the prohibition against live music is based on a fear that these restaurants would surreptitiously morph into night clubs, drawing large and noisy crowds onto the street, far into the night. Basically, live entertainment draws more customers, which the restaurant owners want, while certain nearby neighbors want their streets quiet, and free of people talking or reveling or otherwise causing disturbances far into the night. Currently the author of the "live music" prohibition is extending that prohibition to include both Don Juan's karaoke and the Marx Cafe's disk jockey.

Everyone agrees, I think, that we don't want the noisy late-night crowds that afflict Adams Morgan. But we're very far from that, and with only a few small restaurants even capable of offering entertainment, no significant crowds will ever come to Mount Pleasant. No buildings here are suitable for the big night clubs that draw crowds to the streets of Adams Morgan.

How do a few neighbors impose such draconian regulations on our restaurants? This is the infamous "voluntary agreement" process, by which as few as five residents can impose their rules on any alcohol-serving establishment, holding the liquor license hostage until the business owner yields to their demands. That a handful of people can control this process is clearly unfair to the thousands of residents who may disagree, wanting some entertainment possibilities close to home. Our restaurant owners also have a rough time, because they get little lunchtime business, and a single dinnertime seating won't cover their expenses.

The regulation imposed by a handful of neighbors is this, in its most recent form: "Licensee shall permit no live music, DJ or live entertainment, cover charges nor charges for admission to the establishment, and shall not provide an atmosphere for dancing, or a dance floor for dancing, or permit the moving of tables and chairs for the purpose of dancing."

In short, patrons are allowed only to eat quietly in restaurants, and must not sing or dance. No fun allowed, not in Mount Pleasant!


---
I believe that we have to relax these regulations, so that Mount Pleasant residents can find some evening entertainment in their own neighborhood, and our restaurant owners can have a chance at making a living. I am currently proposing that the business owners be allowed some live music and other entertainment, with self-regulating mechanisms so that any problems that do crop up can be quickly dealt with.

About "voluntary agreements"

In July, 2006, the Mount Pleasant ANC passed a resolution calling on the ABC Board to relax these stultifying conditions imposed on Mount Pleasant restaurants by these "voluntary agreements".

As the time for the renewal of Mount Pleasant's restaurant liquor licenses approached, residents in support of live music founded a neighborhood organization dedicated to that end: Hear Mount Pleasant. This group has done an outstanding job of collecting neighborhood sentiment in favor of ending the MPNA's ban on live music in Mount Pleasant. The April, 2008 issue of DC North has a well-balanced story on the live music dispute, and the battle between the MPNA and Hear Mount Pleasant.

An update: on February 13, 2008, the District's Alcohol Beverage Control Board held an all-day hearing concerning entertainment endorsements, for live music, live entertainment, dancing, and cover charges, for Haydee's and Don Jaime's Restaurants. I spoke for the ANC in this hearing, supporting a termination to the live-music ban, and permits for live music, et cetera.

On April 23, 2008, the Board issued its decision: live music returns to Mount Pleasant! A little bit, anyway; just two restaurants, Haydee's and Don Jaime's, whose proprietors were brave enough to battle the anti-music crowd.

On July 30, 2008, the ABC Board issued its ruling concerning karaoke and live music at Don Juan's. The restaurant has been given permission to have karaoke (and dancing) into the early morning hours. Live music is limited to "roaming mariachi bands", a restriction that has supporters of the restaurant puzzled.

Despite these wins, the battle continues, as the Mount Pleasant Neighbors Alliance continues to resist live music and entertainment in Mount Pleasant restaurants. The Marx Cafe was unwilling to join Haydee's and Don Jaime's in the big battle with the MPNA, attempting to negotiate a new "voluntary agreement" on its own. The result is an agreement with the usual battery of ridiculous restrictions.


---
Dateline March, 2011 -- amazing progress to report! Much to my astonishment, the ABC Board ruled in favor of our entertainment-offering restaurants, and Hear Mount Pleasant, and the ANC, terminating the MPNA voluntary agreements with these restaurants. The MPNA fought to keep its VAs, objecting in particular to the desires of the restaurants to have entertainment later into the night, instead of being compelled to stop at midnight or 1:00 am. The Board accepted the arguments by the ANC, and others, that if there was no harm to the neighborhood by having entertainment to midnight, how could there be harm in allowing entertainment for a couple of hours more?

On February 17, 2011, the Board granted the petition by Haydee's Restaurant to terminate its MPNA VA. As of that date, "the Petitioner's hours of entertainment will now be from 11:00 am to 1:30 am, Sunday through Thursday, and 11:00 am to 2:30 am, Friday and Saturday."

On February 23, 2011, the Board granted the petition by Don Jaime's Restaurant to terminate its MPNA VA. As of that date, "the Petitioner's hours of entertainment will now be from 8:00 am to 2:00 am, Monday through Thursday, and 8:00 am to 2:30 am, Friday and Saturday, and 10:00 am to 2:00 am on Sunday."

On March 23, 2011, the Board granted the petition by Don Juan's Restaurant to terminate its MPNA VA. As of that date, "the Petitioner shall be permitted to offer all forms of entertainment in accordance with the law" (the MPNA insisted that this restaurant be allowed only karaoke and "roaming mariachis").

In each case, the voluntary agreements of these restaurants with Hear Mount Pleasant will continue, providing adequate neighborhood control over potential disturbances. The restaurateurs are content to continue with these VAs, because Hear Mount Pleasant endorses entertainment in Mount Pleasant Restaurants, whereas the MPNA bitterly fought entertainment of any sort.

This has been, as the above shows, a very long struggle, and this success would not have been possible without enormous amounts of free legal assistance from resident Mount Pleasant lawyers who believed that the neighborhood would benefit from having entertainment in our restaurants. This is not, and has never been, about what's good for the restaurateurs. It's been about what's good for Mount Pleasant, and what residents of Mount Pleasant want.

But what a struggle it has been.

Return to home

This page last updated March 29, 2011