Here's a map of Mount Pleasant (courtesy of Mapquest)

The traditional boundaries of Mount Pleasant are Rock Creek Park on the west, 16th Street on the east, Harvard Street on the south, and Piney Branch Parkway on the north. Geography leaves Mount Pleasant isolated. Rock Creek Park, to its west and to its north, leaves those parts of the neighborhood with only forest as a neighbor. To the south, as well, a rise south of Irving Street, then a sharp drop to Harvard (just off the map), presents a barrier to north-south pedestrian and traffic flow. Most of the north-south roads in Mount Pleasant end abruptly. This disconnects Mount Pleasant from Adams Morgan, to its south, and Crestwood, to its north. Only Columbia Heights, directly across 16th Street, is closely connected to Mount Pleasant.

I spend a lot of time working with Mount Pleasant traffic issues.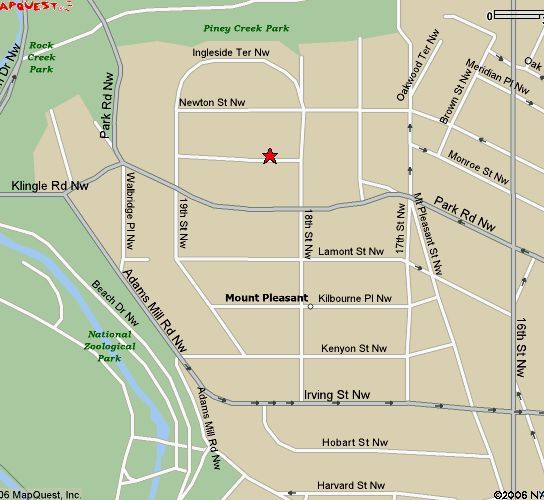 More about Mount Pleasant:

My ANC newsletters, 2002 to present
Night life in Mount Pleasant
Thefts from auto in Mt Pleasant
Robberies in Mount Pleasant
Burglaries in Mount Pleasant
Parking in Mount Pleasant
About "public space"
Neighborhood demographics

Back to home

Isolated from the north and south, Mount Pleasant connects to other neighborhoods mainly to the east and west. Despite the obstacle of Rock Creek Park, residents of the "west end" of Mount Pleasant tend to associate with the Cleveland Park neighborhood, accessible via Klingle/Porter Streets and Park Road/Tilden Street (the streets change names in the middle of Rock Creek Park). Residents on the "east end" favor Columbia Heights, an easy walk away.

Gentrification of Mount Pleasant has proceeded from west to east. West of 17th Street, many residents are upper-income homeowners (or not so upper-income, but longtime residents). East of 17th Street, and south of Park Road, one finds apartment houses, occupied largely by renters of modest means.