Why the denial? The design for the house, done by their son, Richard, didn't call for removal of the front porch, only an opening of one portion of it, to provide head clearance for anyone exiting via that ramp. A tiny (15 inches) stone wall would have to be removed. The porch, and the front steps, would remain in place. But this was too much for the Historic Preservation Office, which complained that the removal of half of the porch deck "would be a very unfortunate, prominent alteration to a character-defining feature". Hence the denial of the permit.

I think that's wrong, putting a detail of architecture over a serious human need. The Lucases should be allowed to have their front emergency exit, and the ramp, to make that exit accessible to Mrs Lucas and her walker, or in a wheelchair, assisted by her husband or their nurse. Does this mar the "repeating porches of similar height and depth [which] create a notable pattern and rhythm on these formerly suburban streets"? If so, too bad; my priority is people, not the elegance of architecture. As is evident from the photograph, this row is not so beautiful that changes must be prevented, at the expense of the safety and comfort of the residents.

I made a bit of noise about this, which attracted the attention of Marc Fisher, Metro columnist for the Washington Post. I arranged for him to visit the Lucas residence on December 15. Marc "got it", in spades. On the 21st, his column on the matter appeared, given very prominent play on the front page of the Metro section. There was utterly no doubt of where his sympathies lie. Who could be so callous as to deny the requests of old Cornelius Lucas, World War II veteran, and his wife Merrie, a retired nurse?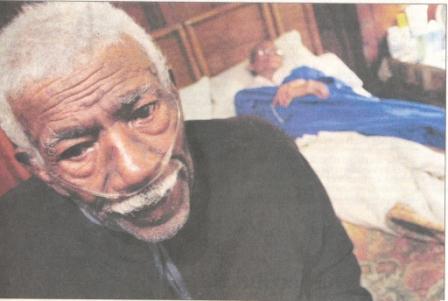 Cornelius Lucas, 88, and in the background, Merrie Lucas, 86. Who could be so hard-hearted as to deny these people a bit of comfort and safety in their last years?